I made $174k from one Shine-On necklace.
Edit : It's now over $175k… and still going up
Yes – I know the title of the matching YouTube for this blog post doesn't match up, but it's been a minute since I made the video 🙂
On March 28th when I recorded that YouTube, stats for the one product were a little over $164k…
Today is April 13th and we are fast coming up to $175k in sales. For ONE Shine-On PRODUCT.
2nd Edit 7/7/2021 – $200k breached!! Check out my $200k YouTube here.
Did you say one product?
Yep!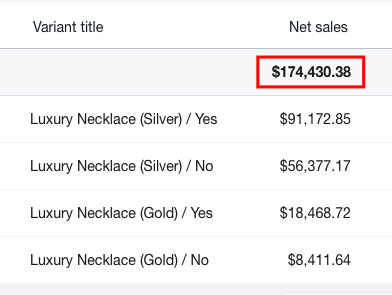 You can get this heart necklace in the following variants :
Silver with no engraving : $39.95
Silver with engraving : $54.95
Gold with no engraving : $49.95
Gold with engraving $64.95
What is selling per variant interests me too – so let's take a look at that :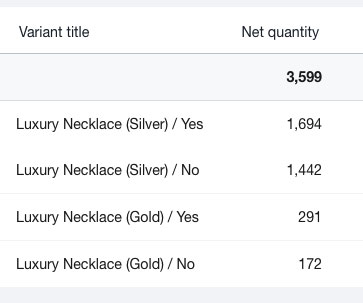 The silver variant, whether engraved or not – is by far the best seller.
Just look at the numbers.
1694 units compared to 1442… not much in it.
Gold on the other hand is not selling as well at all.
Weird when the base unit cost is only $10 more to the customer.
Sales wise there's 291 engraved units compared to 172 non-engraved there.
Seems silver is the customers' choice and who am I to argue?
Either way, no matter the metal it seems customers love the engraving options.
Is this the only Shine-On product you're pushing?
Not at all. I've been pushing other Shine-On products too.
Once you know how to scale – you can scale 🙂
Mainly variants of the same design as the big winner.
Some work, others don't.
But this hasn't stopped my income going up and up.
Here's my stats for Shine-On since I started working with them a little over 9 months ago :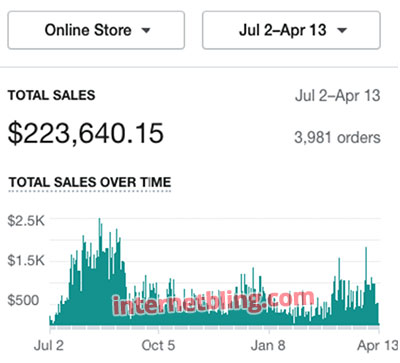 Not bad huh? For sure I'll hit a quarter mil in the next few weeks.
And there are people out there doing way more than this.
Shine-On sure are killing it in 2021.
But back to the main $174k (and counting) winner.
Yes, I made $174k from one Shine-On necklace, but sales are still coming in!
As you'll see in the YouTube, sales are still climbing.
True, not like back in July-September 2020 when it really took off, but by using lookalikes I am still pulling in great daily sales.
I have also moved into doing CBO campaigns as I found a working method at last! (more about this in another post)
There is no way I'll stop this product doing $200k all on its own.
That's $200,000, with one Shine-On necklace.
I like Shine-On so much I've just released my first course, based all around them!
A course? Do tell me more..
Back in November I started work on my first ever course, but due to suffering from chronic fatigue, it took me nearly 5 months to complete it 🙁
Had I not been ill I estimate it would have taken maybe 5-6 weeks max – but there you go.
I've been sick on and off for over 26 months now, and can only do what I can do, when I can do it.
The point is, the course is complete and I'm very proud of it.
It's up on Udemy and I'm only charging $79.99 for it which I think is fair. (going for less now! Check it out)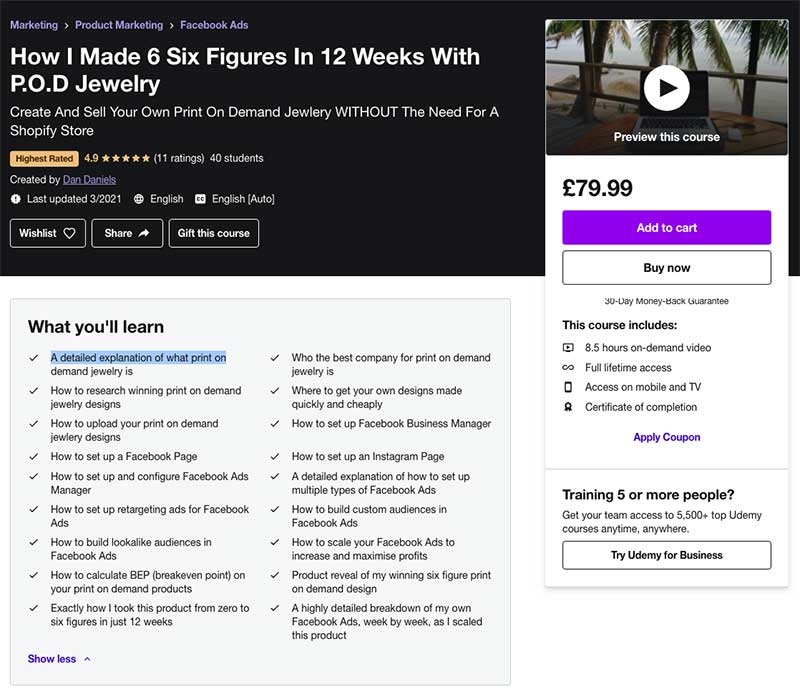 I could be one of those guys charging $497 or the old favourite – $999 for this, but I'm trying to give back to the people maaaan!
$80 sounds fair enough to me and it seems quite a few other people think so too.
It's currently the 'highest rated' course of its kind on Udemy and I'm happy about that.

4.9 out of 5 stars is nice 🙂
Ok great. Trumpet blowing over.
If you want to check my course out please do head over to Udemy and get a copy for yourself.
And, if you prefer watching YouTube to reading my ramblings, hey I got you!
Video is just below as you can see, or if you're a YouTube purist – click here instead.